As of March 10, the monitoring service of BAJ registered 28 detentions of journalists. Mass media representatives were detained while covering street protests against decree No3.
On Monday, March 20, press service of BAJ held a press conference to discuss the latest wave of pressure on journalists and to remind of journalists' rights.
On Friday, March 17, BAJ sent a petition to the Ministry of Home Affairs and to the General Prosecutor's office demanding to investigate the events. On March 22, BAJ lawyer Aleh Aheyeu will hold a meeting with Minkalay Melchanka, the Deputy Minister of Home Affairs. Andrei Bastunets underlines that in the last few years, the number of detentions had decreased, and there was an opinion that the tendency was a result of serious talks with the authorities, also backed by the OSCE.
Sviatlana Kalinkina, BAJ deputy chair, anchor on Belsat: "The events sadden us. Recently, everyone discussed if there had been liberalization in Belarus. Now the discussion is over, because words contradict to actions.
In my view, a witch-hunt for journalists has started…  Journalists were purposefully detained under multiple different pretexts…
It seems that the most awful thing is happening to Larysa Shchyrakova as she is being blackmailed by her child" (the police warned that social service might take away her under-age son to an asylum, because his mother has several administrative penalties, and this is a kind of endangering situation for the child – note).
"In my view, the only thing that helped us for all the 20 years is journalist solidarity, when we stand for each one. There were times when this saved both people and whole mass media."
Sviatlana Kalinkina said that the channel Belsat would support its journalists to the maximum – compensate the fines, provide psychological aid etc.
Katsiaryna Balhvalava: "I did not expect that everything will end up like this (the detention in Orsha). I started cooperating with Belsat in 2014, and there had not been such awful persecution. I thought that the maximum would be three hours' detention and an administrative report as the most."
Halina Abakunchyk: "I did not have illusions that the detention would end easily. The detention was brutal. A minibus approached, and we were grasped and throw in like sacks with potatoes. Plain-clothed people attacked us, throwing the equipment. We were just sitting for three hours. We were not told that we had been detained, but nobody let us call or go out, or use the equipment that was lying in front of us. I was taken to another department, without charges, as if for a talk with some senior officer. In fact, there was no one – they placed me in the cell, got undressed to search, and left to wait again. It was not an accidental detention. It is hard for me to say why, but it looks they are firstly interested in the journalists who distribute urgent information.
I was impressed not even by the ungrounded sentence, but by the fact that the next day I was told that I would not be accredited for the next year."
Volha Chaychyts: "In the department, I was surprised to be told to get undressed while a video camera was on. I had been detained many times, and I know how to behave. But an inexperienced person would have done everything he was told to. My report was written down not word by word, but arbitrarily. For example, I said that I had arrived to the square to gather and disseminate information. But they wrote it down simply as "I came to the square", and further you can hold me liable for participation in a mass event.
I remark that when the recorder is on, policemen behave more diligently, even though they violate some legal norms.
Last weekend, we took an interview from a witness who had seen detention of an activist. They we noticed that we were followed. We had to hide and step back, in order to send the report. I phoned my husband and then heard somebody's voice "Listening…", and only then I heard my husband's voice. I think it is a method to threaten and pressurize."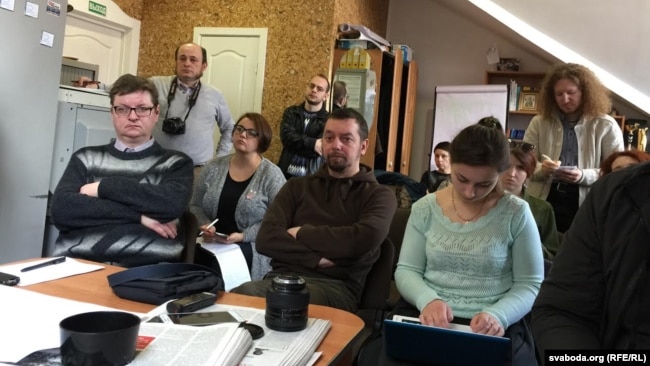 The journalists plan to appeal against the sentences.