Today judge of the Leninsky district court of Mahiliou Viktoria Paliakova sentenced journalist Alexander Burakou, BAJ member, to 10 days in jail for participation in an unauthorized mass protest on May 6 outside of the detention center in Mahiliou.
Yesterday during the hearing Burakou provided convincing evidence that he had been present there as a reporter and a human rights defender, performing his professional duties.
The ruling for violation of Art. 23.34 Part 1 ("violation of the order of organization or holding mass events") based on the reports drawn up by the Leninski district police department.
Immediately after he heard the ruling, Burakou made a cassational appeal to Mahiliou Regional Court. Right after he left the court room, he was taken to jail, where he is to serve his sentence, by police officers who had been waiting for him in the lobby.
At 9.30 a.m. Kastrychnitski district court of Mahiliou began the hearing of the case against BelaPAN news agency reporter Ales Asiptsou .
Only one journalist was able to enter the courtroom, aside from Asiptou and his lawyer.  Judge Natalia Yasenka did not let other journalists and human rights defenders in the courtroom, referring to the small size of room and the risk of COVID-19.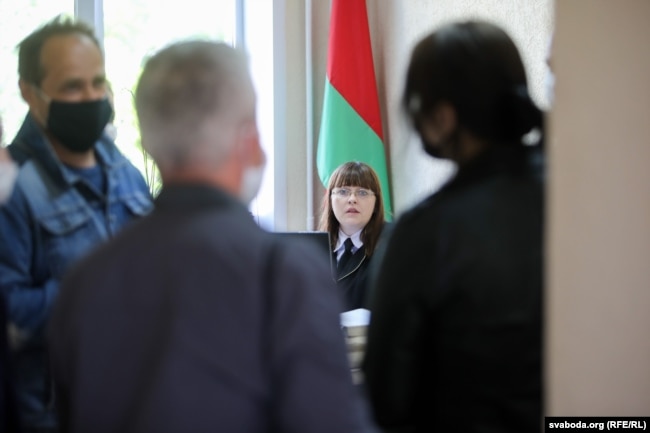 Ales Asiptsou went on hunger strike right after his arrest.
He will continue the hunger strike through 10 days of his jail sentence.
Journalist Ales Asiptsou disappeared after the "Anti-parade" protest on Saturday, May 9, and did not return home.
Maryna Malchanava, journalist from Babruisk, says they were in touch in the morning, they exchanged information of what was going on in the city. At 12:38 Maryna called him again. Asiptsou told her he was in the car with one of the protest participants driving around the city. After some time, the journalist stopped answering the calls.
Ales Asiptsou is a freelance reporter of BelaPAN. Located in Mahiliou, he arrived in Babruisk to cover the "Anti-Parade" drivers' protest planned for the Victory Day. The police arrested about 20 participants of the protest.
Asiptsou's wife and colleagues phoned the Babruisk police department, as well as traffic police, but were not given any reliable information about Ales. Instead, the police recommended his wife to report his disappearance.Only about 7 p.m. they informed his wife that he was in a temporary detention center in Mahiliou. No reasons for detention were given.