November 12 Minsk district court considered a defamation action brought by the chairman of the Slonim district executive committee Henadz Khomich against Stsiapan Putsila, owner of Nexta channel in Telegram.
The court ruled to award to claimant 3000 rubles (Khomich asked for 10 000 rubles) as a compensation for moral damage and obliged Stsiapan Putsila to publish the court decision in his Telegram channel.
Putsila is also to pay the legal costs of 370 rubles.
Earlier Khomich claimed he would transfer the money to Slonim hospital for renovation works in one of its units.
Neither the claimant, nor the respondent attended the hearing. Khomich's interests were represented by two lawyers: Maria Kolesava-Hudzilina and Artsiom Kalosha.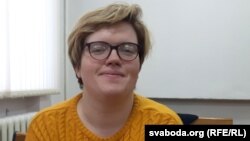 According to Kolesava-Hudzilina, Nexta's Telegram channel was the primary source of information about Khomich, so "it has greater responsibility".
"In his interviews the channel owner repeatedly claimed he had the proofs of the published information, but he failed to present such documents. <....> We believe that there can't be any documents," - said the lawyer.
According to Hudzilina, the fact that Khomich is a state servant or a public officer, does not distinguish him from other citizens of Belarus.
"He has the same rights as everyone else, and we believe that he is a representative of the State, among other things. With his actions Stsiapan Putsila also insulted the Republic of Belarus, via my client," - the lawyer said.
August 10 Nexta Telegrams channel published information about Khomich's arrest. Allegedly, the official and his wife were caught drunk by the traffic police. Hrodna region traffic police department says they have no information about Khomich's detention. Khomich strongly rejects that has ever happened.
According to his claim, Nexta's posting about his arrest was seen by more than 200 thousand people. Other media referred to this information, too.
Khomich filed similar lawsuits against the owners of independent BelarusPartisan, 21.by and Vecherni Bobruisk, which reprinted Nexta's posting.
Savetski district court of Minsk started the hearings of his claim against the owner of BelarusPartisan website Sviatlana Kalinkina on October 8. However, on October 30 the judge suspended the trial until November 18.
According to Maria Kolesava-Hudzilina, Maskouski district court approved a settlement agreement between Khomich and 21.by, which agreed to pay a compensation of 1,500 rubles and had already published a retraction.
As for Vecherni Bobruisk, the next hearing is scheduled for November 13, with the claimed amount of compensation of 7000 rubles.
According to the lawyer, Khomich "still has the right to present claims to the rest of the media, which spread false information."
Since 2014, seven lawsuits against the media were supported by courts, according to BAJ. The amount of compensation paid by media oulets ranged from 49 to 378 US dollars. The average amount was $ 213. According to BAJ, in most cases, the courts do not uphold the moral compensation claims.